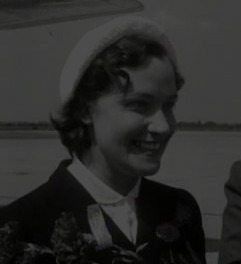 Das Lied Von Der Erde, Song of the Earth and Kathleen Ferrier.
The English singer Kathleen Ferrier's career blossomed during the end of WW2, with her collaborations with some of the greatest conductors and composers of the time. She collaborated more than once with the conductor Bruno Walter. Walter had been a personal friend of Gustav Mahler. Mahler wrote Das Lied Von Der Erde (The Song of the Earth in 1908. The work is for two voices and orchestra, set to ancient Chinese poems that had been translated into German by Hans Bethge. This was a time of tragedy in Mahler's own life. He himself was unwell with a heart condition that was soon to lead to his early death at 50, and he was grieving his daughter. When the composer wrote the work's final movement, "Der Abschied" (The Farewell), he showed it to Walter, who said, "I was profoundly moved by that uniquely passionate, bitter, yet resigned and benedictory sound of farewell and departure, that last confession of one upon whom rested the finger of death."
The work is deeply sorrowful. The female voice soars with aching melancholy. It was premiered in Munich in 1911, 6 months before Mahler's death.
Mahler's music had been banned during WW2 due to Hitler's anti-semitism. At the end of the war, Walter has been keen to bring his works back into the public domain. The remarkable 1952 recording in Vienna of Das Lied von der Erde was with Kathleen Ferrier. At the time of this recording she has been diagnosed with breast cancer, that she was to die from the following year in 1953, at the age of 41. The compression of Mahler's and Ferrier's fatal illnesses whilst composing and singing this music respectively lends this recording unique and exquisite poignancy.  In our production, the musical saw player was challenged to accompany the Ferrier recording at the end of the performance, augmenting this already swelling sound with empassioned ethereal glissando.
The piece can be enjoyed in the back ground as you navigate this section of the site by following the link.