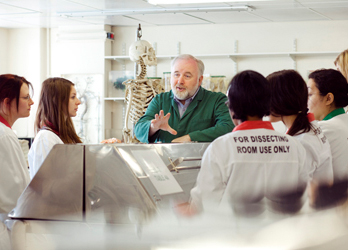 The dead teach the living.
Dr Alistair Hunter with King's College London medical students in one of the College's Dissection Rooms.
https://www.kcl.ac.uk/lsm/mortui.aspx
King's College run a Body Donor Scheme and, each year, in Southwark Cathedral there is a Service of Thanksgiving for those who have donated their bodies to medical science (https://www.kcl.ac.uk/lsm/study/departments/anatomy/lao/thanksgiving).
Like many hospitals and medical environments, King's College has in recent years brought artists into the institution. This reflects the growth of the Medical Humanities and ways in which artists' and medical scientists' practices can reflect and inform each other. When I was researching there in 2016, an embroidery artist was working with the students on patching and sewing their own torn clothes to sensitise them to protocols of surgery. Hospital arts have shifted from being about producing work to entertain patients to artists collaborating in meaningful relationships with both patients and medics. Art with hospitals rather than art in them.
https://www.kcl.ac.uk/Cultural/newsandviews/newsrecords/170323-Kings-launches-new-artists-in-residence-programme.aspx